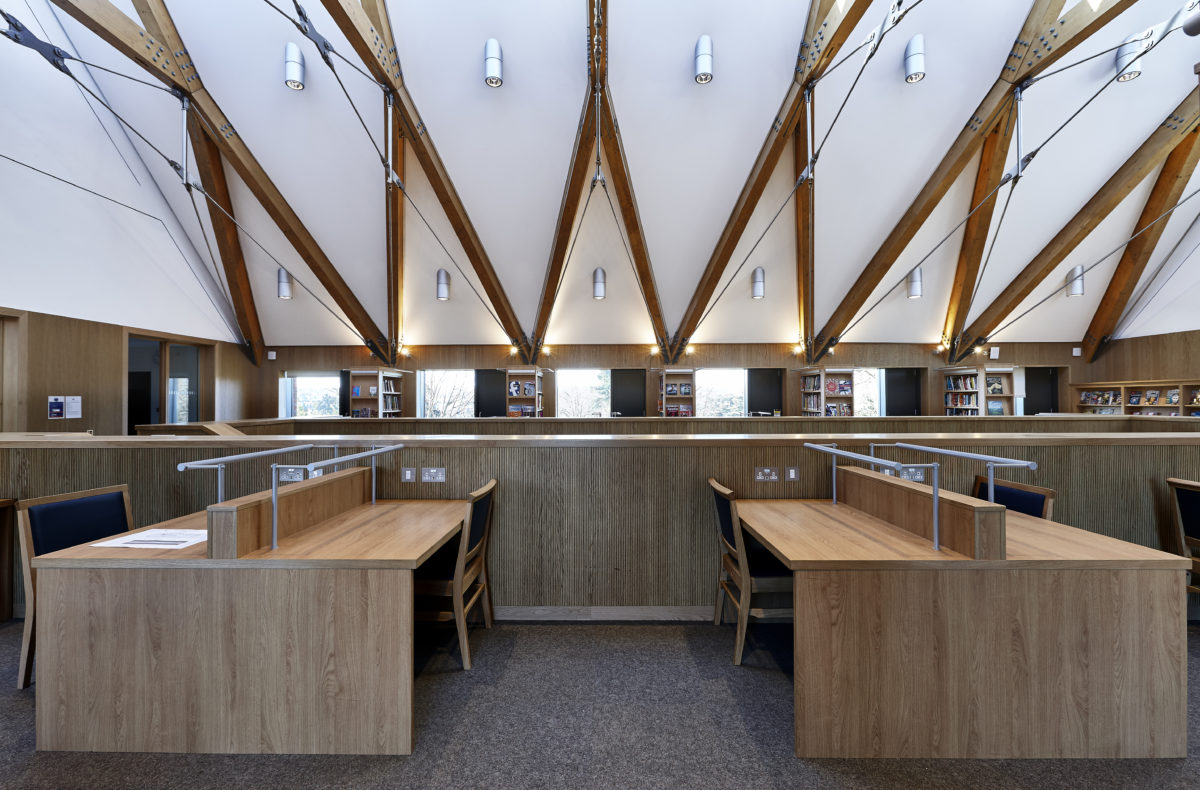 At Acoustic GRG, we believe good acoustic and visual design should go hand in hand, as both provide a source of comfort and well-being. Soundtrac Stretch Fabric Wall and Ceiling allows not only for excellent acoustic performance but also for beautiful, bespoke finishes. Whether you are looking for an invisible, natural finish, or high quality prints – Soundtrac Stretch Fabric will create a solution deserving of your space.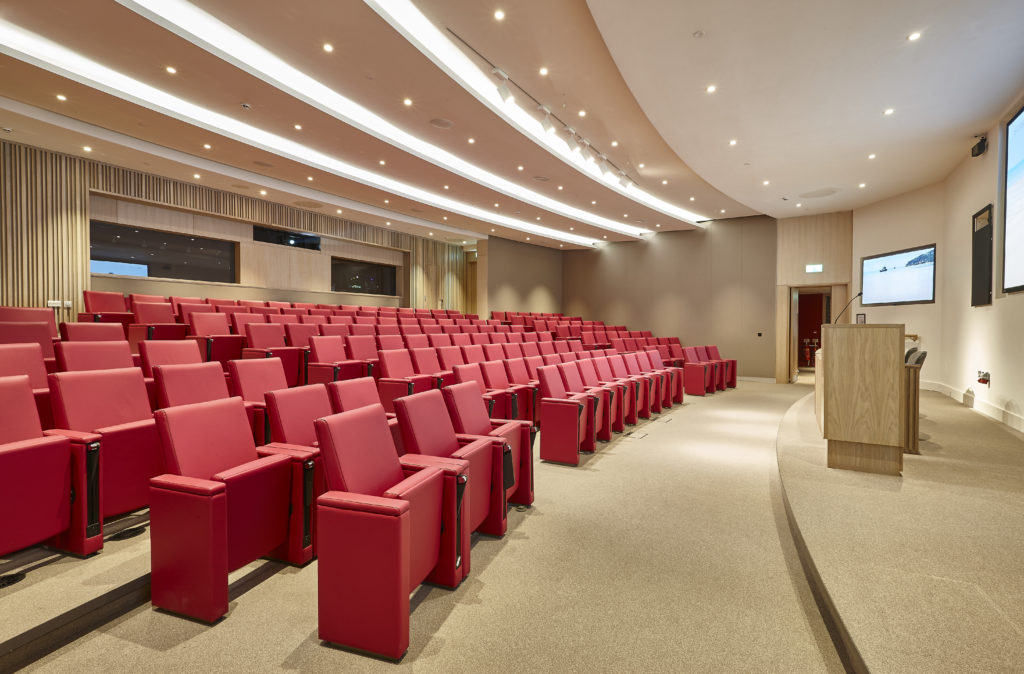 ACOUSTIC COVERING
Soundtrac ceiling and wall coverings provide high-end visual and acoustic solutions for any interior space. Lucia is an ever popular crepe weave synthetic panel fabric. It's manufactured from 100% recycled polyester saving virgin raw materials for a reduced environmental footprint and features a non lustrous appearance with bold and bright colour palette. Cara is a plain weave panel fabric available in a wide selection of commercial colourways. Used extensively on vertical surfaces and in a range of applications, Cara offers tried and tested acoustic solutions. 495 D and 705 A Acoustic coverings are highly micro-perforated which allows for a high level of acoustic performance. When combined with an acoustical batting, NRC's (Noise Reduction Coefficients) can reach 1.05.
The Acoustic 495 D covering can be coated with stock or custom colours, or printed with high-resolution digital, stock or custom images. Ceiling tiles, or cloud-like effects can be created to enhance both design and acoustic properties.
EXCELLENT PERFORMANCE
Thanks to the numerous possibilities for installation, you can optimise the acoustic performances of your walls and ceilings as well as your frames, screens, lightboxes, suspended ceilings, sliding partitions, etc. Certain types of fabrics, including Cara, can also be used as pin-able surfaces. Our fabrics come in a beautiful, wide colour range and can be printed as well as painted: in addition, printed coverings retain all of their acoustic characteristics. You can therefore combine customised designer surroundings with high-performance solutions to increase the comfort of your daily environment. The acoustic data for our fabric range is available below.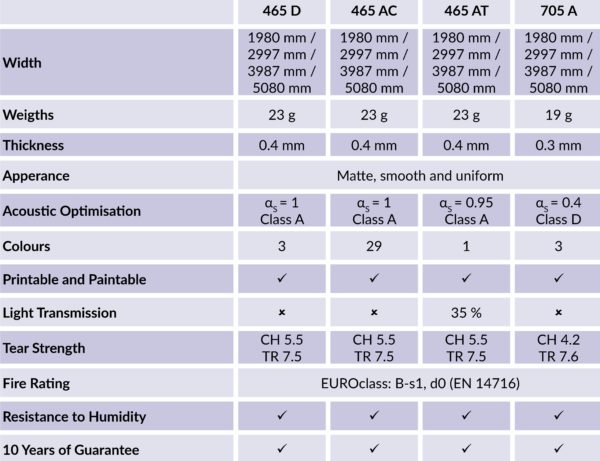 DURABLE
Due to the nature of the product, damaging the Soundtrac Stretch Fabric is highly unlikely. It is therefore the perfect solution for  areas such as sports halls or schools. With  the high impact facing deployed, the fabric can also be used as a pinable surface, creating a versatile and flexible solution for your space. 
In the rare cases of damaging the surface, Soundtrac is easily replaceable thanks to the fitting track used. This can also be utilised when a change of design is required, and provides a more cost effective solution than traditional acoustic panels. 
EASY TO INSTALL
We provide a complete install and supply solution for your peace of mind, allowing you to enjoy the benefits of your newly completed space within a timely manner. Additionally, thanks to the flexibility Soundtrac provides, it is easy to form shapes, curves and designs that traditional systems cannot attain. Thanks to this, we can meet almost any architectural design to provide an aesthetically pleasing, beautiful finish. High-quality printing is available as well as a plain colours where a natural finish is desired.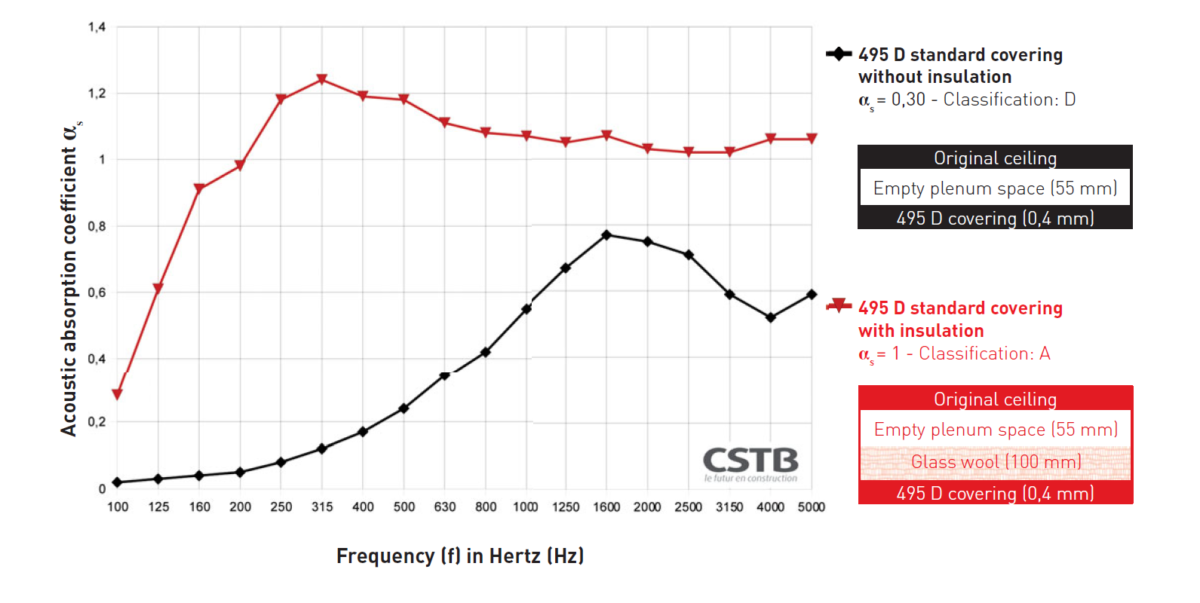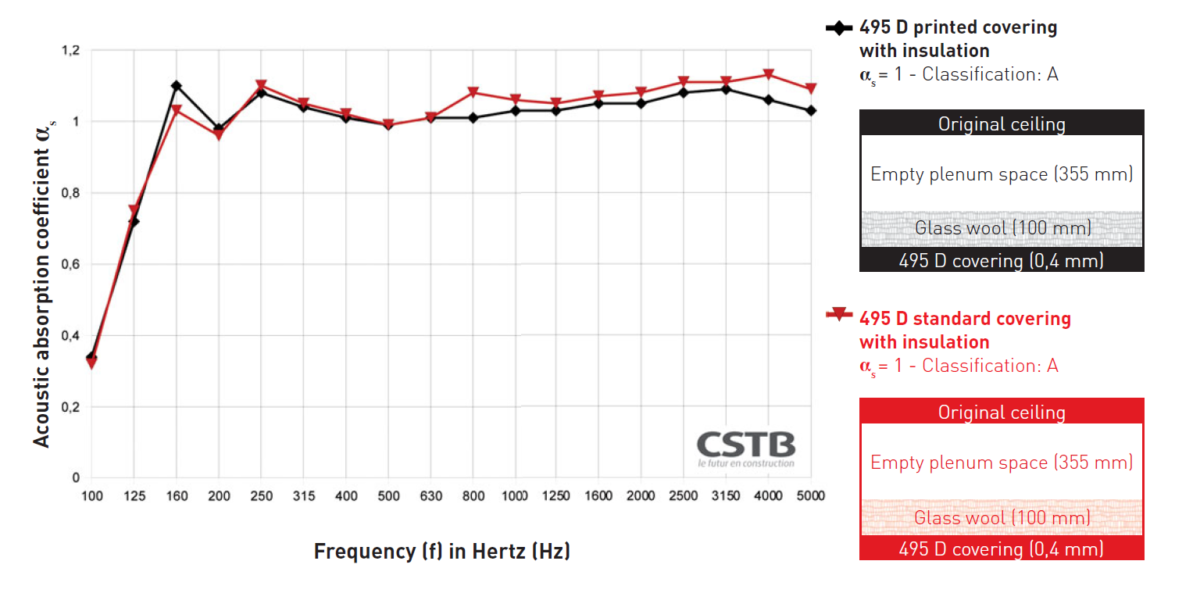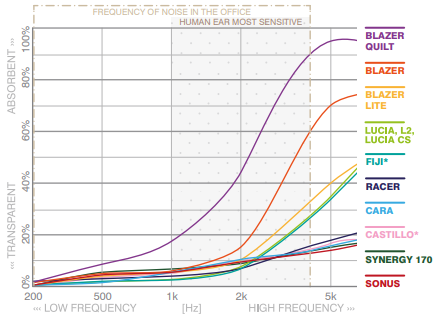 ABSORPTION 
We offer a wide range of fabrics across different compositions, colourways and price points, which can be used to stunning visual effect for a number of applications. While they are all largely transparent and give minimal reflection, they do offer degrees of absorbency at higher frequencies.  
The Noise Reduction Coefficient (NRC) is a scientific test to measure a fabric's acoustic performance, ranging from 0-1, with 0 being highly transparent and 1 highly absorbent. Testing is carried out according to the British Standard BS EN ISO 10534 (2001).