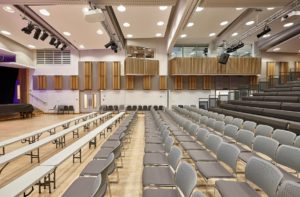 Overview
RPG Biffusor is a variable acoustic device, reversible so one side is a standard QRD while the other integrates some fabric absorbing panels into the wells.
Finishes available include many custom options.
Special wall mounting allows the units to be turned 180 degrees.
The first general purpose variable diffsorbor.
The Biffusor is reversable. One side is a QRD 734, the other is a combination product with absorbing material in the well base.  If this aesthetic is not pleasing, then another option is to have a QRD face and a standard absorbing face, similar to the Modex module.
This product is ideally mounted into a recess with a pivot mounting to allow the unit to rotate, this action can be motorised and controlled remotely. RPG do not provide mounting systems with this product.
Fabric Choices:
Cara, Microsuede or Expo Felt included, for white fabric add £5 per panel for underliner
Other fabrics available
MDF, Veneer or paint
Tab content
Mounting:
Integrated Batten mounting or bespoke wall brackets.
Tab content